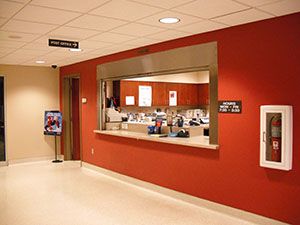 Located in the back of the Student Center, the Post Office is a contracted substation of the U.S. Postal Service. The services available here are for personal mail and packages. The US Postal Service picks up outgoing mail daily. All intercampus and departmental mail should be processed through the Central Mailing department. There is no delivery from the US Postal Service of any mail or packages to the Student Center Post Office.
Hours of operation:
Academic school year: Monday-Friday 8:00-4:30pm
Summer Hours: Monday-Friday 7:30-3:30pm
Telephone: 765-285-8428
Services that are available: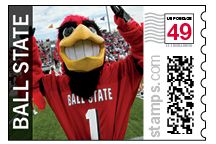 Purchase of Stamps

A variety of First Class stamps in all denominations are available. They can be purchased individually, in books or coils.

The Offical Charlie Cardinal Stamp

Send your mail off in Ball State style. Affix the Official Charlie Cardinal Stamp.

Purchase of envelopes

#10 business size envelopes with postage already affixed can be purchased for a small fee.

Ball State University Postcards

A variety of Ball State University postcards are available to remember time here on campus.

Insure packages

Merchandise is insured against loss, damage or rifling. Coverage may not exceed the fixed limit or the value of the items for the insurance fee paid. Insurance amounts cannot exceed $5,000.00. Claims for insured mail must be filed at the main post office.

Certified Mail

Designed to provide individual with proof of delivery for sent mail. This service provides the sender with a mailing receipt and a record of delivery and is maintained at the addressee's mail Post Office. The addressee will have to sign for the item upon delivery (this service can only be purchased when sending first class or priority mail and applies to Domestic Mail only)

Money orders

Can be purchased for up to $1,000.00 for a small fee. Money orders can only be purchased with cash or a debit card.

Registered mail

Designed to provide security for valuable and important mail, plus evidence of mailing, delivery and indemnity in the case of loss or damage. This mail is signed for every time it changes hands and is the most secure service that Postal Service offers. (this service can only be purchased when sending first class or priority mail)

Padded envelopes

A variety of sizes can be purchased for you to pack your merchandise in. These envelopes are self adhesive and can be used for shipping various items.

Shipping of overnight and international packages

Offers convenient overnight deliver and is the only overnight service that delivers 365 days a year. Yes, weekends and holidays are included. Express mail includes letters, documents and merchandise, and is given top priority handling over all other classes of mail.

CD mailers

Envelopes for transport of cd's/dvd's can be purchased. These are self adhesive envelopes that will help protect your digital media. 9x12 or 10x13 flat letter envelopes can also be purchased to send your documents.

Fax Services

Fax's can be sent world wide for a minimal fee. There is no minimum or maximum amount of pages that can be sent. Our Fax service will also provide you with a confirmation page for your records.