Sandwich Board - 2 Sided - Image Area 24" Wide x 35.75" Tall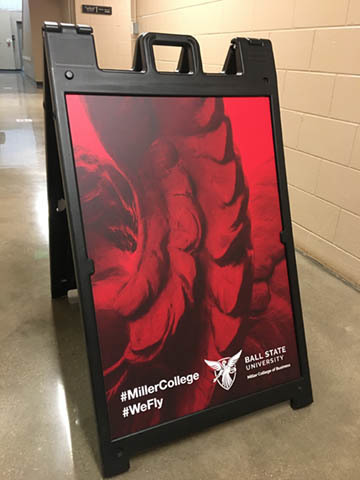 Inserts for Plastic Sandwich Boards:
Order with or without Premium Sandwich Board Stand, 24" wide X 35.75" high image area on both sides of the board.
Price includes two prints, one for each side of the board.

Create an eye-catching indoor or outdoor signage for any event with these custom inserts and stands!
Easy to store and setup! Durable & weight can be added to the stands!

Please include a .25" bleed at the top and bottom, .125" bleeds on the sides.

Turn Around Time: 5 (Days or Less)

Bleeds:
Each product has specific bleed requirements. Please click on the photo above to download a graphic template for specific information about image size and bleeds.

Types of Files Preferred:
High quality, editable PDF's, Illustrator and Photoshop or packaged InDesign files are preferred, as they are more suitable for large format printing. Art time will be charged if files need to be fixed or altered to meet guidelines. When sending files, please be sure to include all support art (fonts, linked images, etc.).